Local Bahamian artist Keeya sings a melody of songs for a crowd including her own hit single, Faded.
Read More
I had the honour of meeting a great Bahamian artist while she was in town for a concert. Her name is Kamilah. She has such a gentle spirit but a powerhouse voice! I was completely blown away not only by her singing, but her playing. She has performed in the Apollo and now lives in New York as she chases her dreams. It's time to get vulnerable with Kamilah.
1. What made you first realise you wanted to pursue a career in music?
I have always been musical. I grew up with a lot of it- my dad is a big fan of jazz and soul and my mom has a very eclectic musical palate (everything from opera to folk to soul/R&B, disco, rock). I've always known I needed music to be part of my life in a major way but I'd say I've been certain I wanted to pursue it as a career since around 2004.
2. How did you become involved in the type of music you play/sing now, and how long have you been performing live?
Over the years I've exposed myself to a lot of new (and old) sounds. I think my guitar style, which is more folk in orientation, comes from having listened to so much of that growing up. But my music is constantly evolving. I love to meld genres so there's no telling what the sound will end up becoming. I've been performing live since high school (about 15 years or so). I did school showcases and took part in school musicals (mostly performing covers but always putting my own twist on things). I started performing more of my own stuff in college (around 2007).
3. What can people expect to see at your live performances?
Honestly, I believe that art, music in particular, is among the most honest expressions but new technologies in communication and music production have created a more formulaic structuring of music, which I feel has, in some ways, limited the craft. I think performing live is a truer testament to artistry. It's an opportunity for the performer to reveal not only their ability but their most honest self to their audience. It's a communal experience. That's what I try to preserve in my live performances.
4. If you had to describe your music in three or four words, what would you call it?
Honest, vulnerable, fusion
5. What are your songs about?
I'm inspired by a lot of things. Often my lyrical content is derived from personal experiences (relationships of all kinds). Lately, however, I've beenincorporating more existential ideas to my work- looking at who we are, how we as human beings function in the universe, interact with each other; how nuanced our feelings are and how diverse our individual narratives/stories are.
6. Who inspires you the most? I heard you sing some Drake covers, would you say he is your favourite artist? If not, who is?
I like Drake but I don't know he is "the most inspiring" artist I admire. I love, love, love Erykah Badu, Lauryn Hill, Amy Winehouse, Nina Simone, Taylor McFerrin, Hiatus Kaiyote, Cat Stevens… lots of different artists. It's hard to pinpoint any one in particular who has had the most impact. My favourites change depending on the day/week.
7. If you could perform with anyone in the world, alive, dead or broken-up, who would it be and why? (You can name up to three)
This list is long and ever growing: James Blake, Damian Marley, Taylor McFerrin, Chance the Rapper, Nai Palm, Moses Sumney, Childish Gambino, Jessie Ware, Thunzdercat, J Cole…too many to list.
8. What would you consider to be your "biggest break" or "greatest opportunity" so far in your career?
I think playing at the Apollo Theatre in Harlem, NY would be the "biggest break". I got the opportunity to play for 1500 people for the first time, which was super nerve-racking but it helped give me the confidence to perform in front of larger crowds. The greatest opportunity may be being invited to play at The Bitter End- a super famous venue in NYC in Greenwich Village. Super amazing acts have played that stage including Curtis Mayfield, Patti La Belle, Tracy Chapman, Hall & Oates, James Taylor, Miles Davis, and Joni Mitchell…They found me and asked me if I'd like to be a part of that history, which was pretty phenomenal!
9. Have you ever had to turn down opportunities? Why or why not?
Not yet.
10. What are your immediate music career goals? (Next 1 to 3 years)
Record, release, and play live.
11. What has been the biggest challenge for you and how do you cope with obstacles?
I think feeling like I/the work is truly ready to be shared. It's something I think a lot of artists struggle with: always wanting to give your best or your most real. But I think that is easier to overcome than building the confidence to be your most honest self.
I think music culture today breeds a degree of insecurity. Today's music (particularly popular music) has as much (if not more) to do with the way the artist/performer is packaged- appearance, aesthetic/ style, what pigeon hole they fit into comfortably as it does with the music itself. I think it's been a struggle for me to decidedly not care about that and just pursue my art and personal style the way that I want without being self-conscious about what other's will think.
12. What was your most embarrassing moment during a performance?
I've been lucky. I don't think I've had any super embarrassing moments. Forgetting a line… or playing with a band that I'd wished I'd practiced with more… but those are things you can work through on stage- not things that I feel super embarrassed about.
13. If you had the opportunity to change something about the music industry, what would it be?
The focus on bodies and image. I just don't think that's what music is about. But it's part of the money-making structure and beauty culture around the world. It may sound naive but I just wish it were more about the feeling the music gives than how it is packaged and the personal stories/lives of the artists/performers.
14. Someone (I'm not sure whom) said, "Write what you would like to perform over and over". With that in mind, what song do you love to perform the most?
I think this changes. Recently, I wrote a song called "So Right" about living in the moment. I'm a planner so I've recently tried to shift my approach to living in "the now"; embracing it for all its joys and difficulties. I think that's where happiness is. I like performing that song because I think in the moment when I'm singing it, it connects me to the audience in that moment in a special way.
15. As an artist, is there anything special you hope to be able to accomplish?
I just want to get to a point in my career when I can focus on the music alone. Write and tour and collaborate and play for people- to touch people and be in a position to articulate the things many find difficult to express.
Bonus Question: Who is Kamilah off-stage? Ex: What do you like to do? What else are you good at? College? Day-time job or is music your full-time job? What is something only your closest friends would know about you? Favourite snack?
I'm not entirely sure how to answer this. I'm a pretty chill person. I like to listen to people's stories. I like cooking for people. I'm trying to make yoga a more consistent practice in my life, I love listening to music live, creating music with others. I paint. I guess visual art is another strength/pursuit. I studied Fine Art in college? I completed my undergraduate studies in Canada and got my Master's from NYU in New York. During the day I work for a graphic design firm in NY as an Account Coordinator. My favourite snack is FRUIT! Especially a juicy mango while on the beach!
Just for fun, fill in the blanks!
Without music, I would be unhappy in a silent world.
Music is everywhere always.
My music makes me feel release
I write the songs because I think music has a unique way of tapping into the core of the soul and uncovering all the stuff that makes life wonderful. Creating that is powerful.
Support music because it supports me.
And how can we find your music?
Facebook: /iamkamilah
IG: iam_kamilah
twitter: iam_kamilah
www.iamkamilah.com
Thank you so much for wanting to feature me on your blog.
It was a pleasure meeting you, Olivia!
The Bahamian Icon Awards may be over, but hype hasn't died yet! If you were on the Red Carpet at the Bahamian Icon Awards, then you probably heard the same name, over and over again!
Three nominees graced the red carpet in custom designs by none other than the fabulous Ria Georgina! Her designs were the most stunning and talked about, all night! I have the pleasure of calling her a friend so scoring this interview wasn't difficult but it was still a privilege to be able to sit down with her and talk about her and her brand! So let's take a minute to meet the woman behind the dress!
If you were on the Red Carpet at the Bahamian Icon Awards, then you probably heard the same name, over and over again!
Three nominees graced the red carpet in custom designs by none other than the fabulous Ria Georgina! Her designs were the most stunning and talked about, all night! So let's take a minute to meet the woman behind the dress!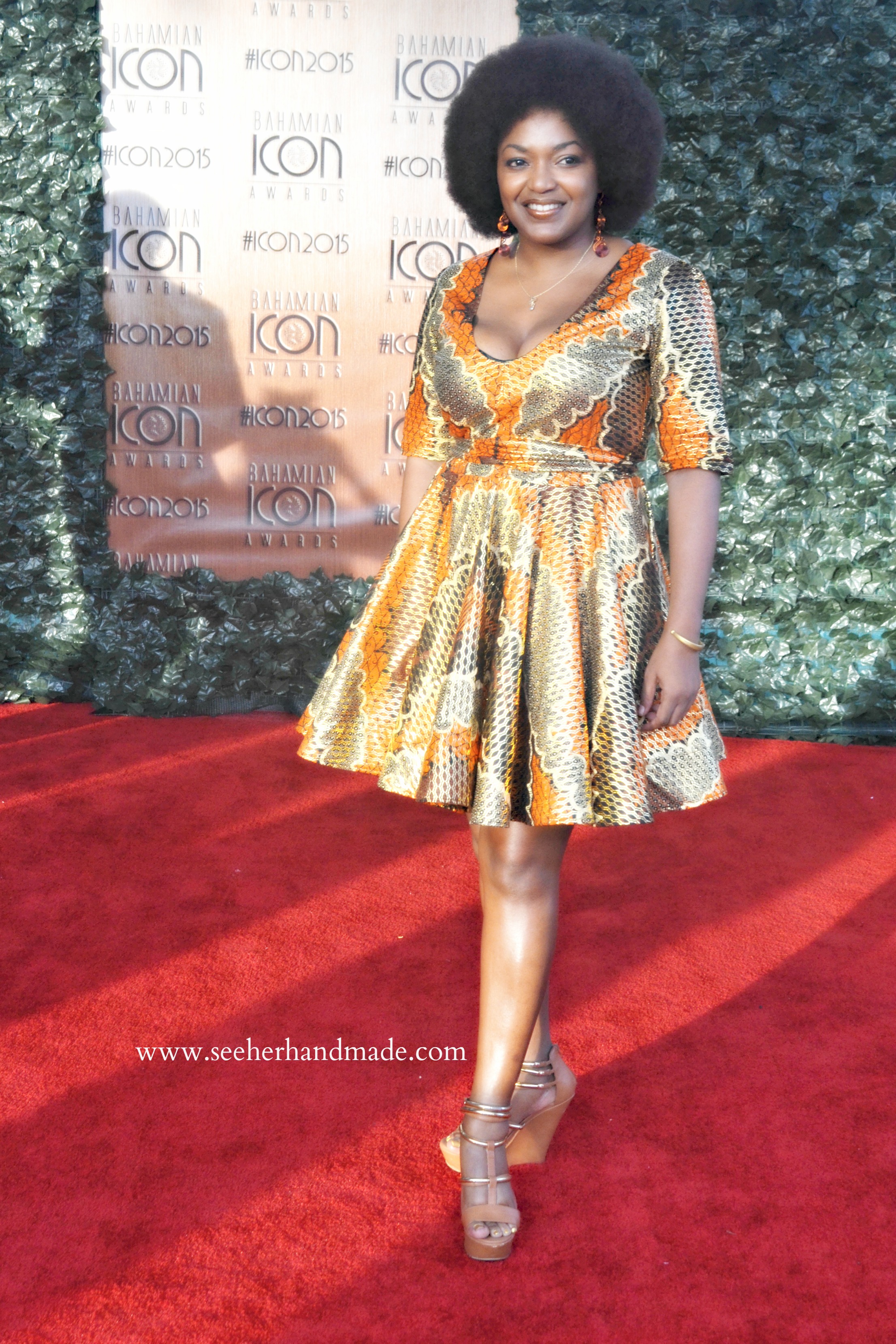 Her full, government name, according to her passport, is Kenria Geoginia Smith (side eye to the government worker who butchered her intended middle name of 'Georgina' so perfectly). At the young age of 29 she has been operating under the brand name Ria Georgina, since 2012. Kenria's (Ria for short) grandmother used to sew and passed it on to her mother, whom she mostly learned the basics from. As she got older and started to gain more interest in fashion, she started to experiment with different techniques, purchase textbooks and everything else she pretty much learned from trial and error and, of course Youtube. I sat down with this Power Woman this week to talk about her Red Carpet debut and gain insight on who she is and what's next for her brand.
How did it feel to design for 3 Bahamian Icon Nominees?
It really didn't hit me until I started working on Leanne's dress (I had less than 24 hours to pull that together lol). I knew Leah and Leanne from Facebook, and Wendy is one of my newer clients, but I love all of their energy, so it felt pretty easy breezy as opposed to 'Holy crap, these are ICONS'. It was my first red carpet as well, so watching the red carpet and the show was kind of surreal, especially when Leanne was asked who she was wearing and she said 'Ria Georgina'. I legitimately almost jumped out of my skin.
What is your personal development plan?
I'm not a big planner, especially when it comes to things like running a business. I literally have no idea what I'm doing, but I know that I would be miserable if I were doing anything else. For now, I just want to build my clientele and continue doing what I love and see where it takes me.
What is your guilty pleasure?
Hmmm, probably the combination of the Love and Hip Hop series (all of them lol) and Twitter. It's so ratchet but I can't stop watching/tweeting. It's hilarious.
Who was your favourite person to design/style for and why?
And NOW you're trying to get me into trouble. Generally speaking, I love designing for women who know what they want, come with reference photos, but are open to trying something different. I love when I can get to that sweet spot where the client trusts me completely, it's really quite the compliment.
What are the top three life lessons you've learned that have been the most helpful in your career?
The main lesson I've learned is that not everyone is as honest as you may be. Just because I would never commission someone to make a dress and drop off the face of the earth without paying for it, doesn't mean that someone else won't. I had that happen to me more times than I'd like to admit. I've also learned that if you don't love what you do, it won't matter how much money you make. I worked for a handful of people before finally deciding to try it on my own, and the same thing usually happened; I'd be happy the first few weeks because I could finally save up for something I may have wanted, but once I got it, I kind of felt unfulfilled, like I was missing something important. Money is nice to have in abundance, but to be honest, if the world never ran on currency, I would still be doing what I do now. The third thing is that your client should NEVER see you panic. There are times when something is a bit too snug, or too short, and I can visibly see the panic in my clients' eyes. I always keep a cool head and reassure them that it's not the end of the world, and that it can be fixed. Because in most cases, it can. Things go wrong all the time, but it's the way that we handle it that people usually remember.
Name someone you would really like to work with. Why?
I have a designer bucket list that I constantly add to, but if I had to pick one person right now, it would be Emma Stone. She's one of my favorite redheads and I love that she likes to stand out on the Red Carpet. Plus she would be so much fun to hang out with.
What are the top three life lessons you would pass on to someone else?
First, I would advise them not to take failures and the word 'no' as the end of the road. None of these things are permanent unless we let it be. Also, I'd tell them to not let the way the world treats you change you for the worse. If you are a positive person, hold on to that. If you're a video game enthusiast way into your 30's, own it. The world needs diversity. Finally, I would encourage them to travel and learn as much as you can about as many places as you can, while you can.
You run into a potential client in the elevator/coffee shop and you only have 60 seconds to sell yourself. Go!
Hmmm. Well at least 20 of that 60 seconds would be wasted on me just going back and forth in my head about whether or not I should even approach them. If it's someone who's in the public eye, I'd ask them if they were so-and-so and then I'd say something like 'Awesome, I really appreciate what you do for (insert charity here). My name is Kenria Smith, I'm a local designer and stylist, and I'd love to work with you for your next event.' Then I'd give them my card and let the rest sort itself out. I'm not an aggressive human.
What's next for Ria Georgina?
I'm currently working on some pieces for an upcoming music video (I won't say who yet), and after that, I will be winging it. I'm open to whatever opportunities this profession has waiting for me.